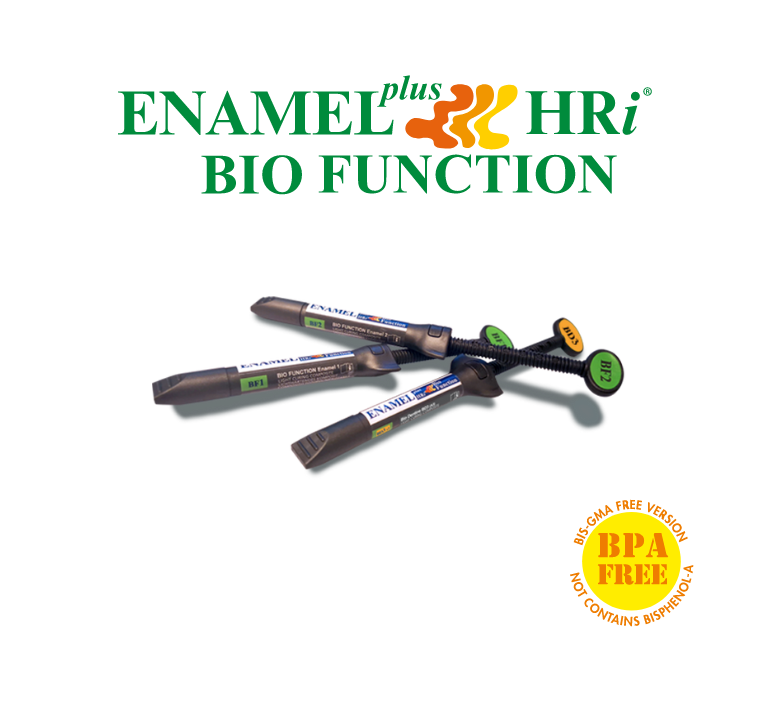 Enamel Plus HRI Bio Function
Biocompatible composite
The biocompatible composite with unique characteristics for Anterior & Posterior
Highly Biocompatible, does not contain Co-monomers nor Bis-GMA, does not contain free nanoparticles.
Similar abrasion to natural enamel.
Mechanical and functional characteristics similar to gold.
Ideal polishability and handling
Suitable for direct and indirect technique.
High Radiopacity (250% compared to aluminium).
Contains Fluoride
The UDMA and TCDDMDMA innovative formula is zero-degree cytotoxicity and Bis-GMA free, an organic compound that exhibits estrogenic properties in the human body causing health problems. It contains nanoparticles aggregated that cannot penetrate the cell membrane, unlike free nanoparticles whose effect on health is still object of discussion.

The only composite enamel with mechanical and functional characteristics similar to gold type III and to natural enamel, maintains the occlusal balance over time respecting the neuromuscular system and getting an excellent aesthetic integration.
Composite shades subject to low abrasion that are comparable to natural enamel.
The Bio Function was developed thanks to the scientific support of Dr. Lorenzo Vanini and the research of the University of Chieti by Prof. Camillo D'Arcangelo.